What's New on Netflix now has MORE REGIONS
Is
Atypical

on Netflix in Hong Kong?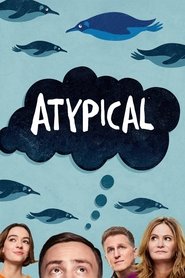 Yes Atypical (2017) is available on Netflix in Hong Kong. We first spotted it on January 20, 2022.
Sometimes Netflix doesn't have all seasons and episodes available though, so check the episode list below for complete availability listing.
But before you go, did you know that Netflix has movies and shows in their catalogue that they hide from us here in Hong Kong?
Thousands of them!
And did you know there are now ways to unlock those titles so you can watch them?
Read on to learn how. We've got steps, instructions, and the links you need.
---
Atypical
2017
Sam, an 18-year-old on the autism spectrum, takes a funny, yet painful, journey of self-discovery for love and independence and upends his family.
Genres
Actors
Amy Okuda, Jennifer Jason Leigh, Keir Gilchrist, Brigette Lundy-Paine, Michael Rapaport, Nik Dodani, Jenna Boyd, Graham Rogers, Fivel Stewart
Where to watch Atypical in Hong Kong
Netflix Hong Kong currently has Atypical available for streaming right now
Atypical can be streamed on Netflix in these countries
Albania, Algeria, Andorra, Antigua and Barbuda, Argentina, Australia, Austria, Bahamas, Bahrain, Barbados, Belgium, Bermuda, Bolivia, Bosnia and Herzegovina, Brazil, Bulgaria, Canada, Chile, Colombia, Costa Rica, Croatia, Czechia, Denmark, Dominican Republic, Ecuador, Egypt, El Salvador, Estonia, Fiji, Finland, France, French Guiana, French Polynesia, Germany, Gibraltar, Greece, Guatemala, Honduras, Hong Kong, Hungary, Iceland, India, Indonesia, Iraq, Ireland, Israel, Italy, Jamaica, Japan, Jordan, Kuwait, Latvia, Lebanon, Libya, Liechtenstein, Lithuania, Malaysia, Malta, Mexico, Moldova, Monaco, Morocco, Netherlands, New Zealand, North Macedonia, Norway, Oman, Pakistan, Palestine, State of, Panama, Paraguay, Peru, Philippines, Poland, Portugal, Qatar, Romania, Saint Lucia, San Marino, Saudi Arabia, Serbia, Singapore, Slovakia, Slovenia, South Africa, South Korea, Spain, Sweden, Switzerland, Taiwan, Tanzania, Thailand, Trinidad and Tobago, Tunisia, Turkey, Turks and Caicos Islands, USA, United Arab Emirates, United Kingdom, Uruguay, Venezuela, Yemen
Seasons
Episode
Release Date
Watch Now
1: Antarctica
2017-08-11
available in Hong Kong
Interested in having a girlfriend, Sam researches dating advice and puts it to the test. Meanwhile, his overprotective mom Elsa must learn to let go.
2: A Human Female
2017-08-11
available in Hong Kong
When Sam learns his crush is already taken, dad Doug helps him woo her. A lost credit card sends Elsa back to the bar. Casey hears rumors about Evan.
3: Julia Says
2017-08-11
available in Hong Kong
Sam decides to update his look. Casey learns a family secret. Feeling like her family no longer needs her, Elsa seeks attention elsewhere.
4: A Nice Neutral Smell
2017-08-11
available in Hong Kong
When a classmate shows interest in him, Sam makes a list of pros and cons to see whether she's girlfriend material. Casey gets a prestigious offer.
5: That's My Sweatshirt
2017-08-11
available in Hong Kong
Sam becomes rattled after Paige invades his bedroom. Casey visits Clayton Prep and gets a taste of what life away from her brother would be like.
6: The D-Train to Bone Town
2017-08-11
available in Hong Kong
Paige proposes having an autism-friendly school dance to the PTA. Sam makes preparations for losing his virginity. Doug and Julia help each other.
7: I Lost My Poor Meatball
2017-08-11
available in Hong Kong
When Paige makes a confession to Sam, he creates a checklist to figure how he feels. Things with Nick suddenly get too real for Elsa.
8: The Silencing Properties of Snow
2017-08-11
available in Hong Kong
After a disastrous dinner with Paige's family, Sam makes amends at the school dance. Casey's fury at her mom affects her relationship with Evan.
Episode
Release Date
Watch Now
1: Juiced!
2018-09-07
available in Hong Kong
Sam's frustration at being unable to find a therapist and Casey's anxiety about going to a new school spark a blowup between the two.
2: Penguin Cam and Chill
2018-09-07
available in Hong Kong
Casey feels less than welcome at Clayton. Sam asks Paige to spell out the rules of their "casual relationship," while Doug sets boundaries with Elsa.
3: Little Dude and the Lion
2018-09-07
available in Hong Kong
A peer group meeting leads Sam to an important decision. Detention with Izzie shows Casey they have more in common than she thought.
4: Pants on Fire
2018-09-07
available in Hong Kong
Zahid teaches Sam to lie, while Elsa practices being honest. Evan helps Casey get over an embarrassment. A doctor visit forces Julia out of denial.
5: The Egg Is Pipping
2018-09-07
available in Hong Kong
In peer group, Sam realizes he needs to manage his own money. Doug gets advice from Megan on dealing with Elsa. Evan meets Casey's new friends.
6: In the Dragon's Lair
2018-09-07
available in Hong Kong
To prepare for college life, Sam sleeps over at Zahid's. Sam's $700 loss reunites Doug and Elsa with Arlo's parents, former friends of theirs.
7: The Smudging
2018-09-07
available in Hong Kong
Casey tells Izzie what Nate did. Sam tries to figure out which colleges to apply to. Doug discovers a need to educate first responders about autism.
8: Living at an Angle
2018-09-07
available in Hong Kong
Sam loses his portfolio for his art school application and panics. Megan gets flirty with Doug, who makes a decision about Elsa. Julia calls Miles.
9: Ritual-licious
2018-09-07
available in Hong Kong
Ignoring Casey's wishes, Elsa throws her a big birthday party, while Sam insists on following a decade-old birthday ritual. The bartender haunts Doug.
10: Ernest Shackleton's Rules for Survival
2018-09-07
available in Hong Kong
Cruel yearbook comments show Sam who's got his back, a favor he repays at graduation. Feelings for Izzie confuse Casey. Elsa asks Doug a key question.
Episode
Release Date
Watch Now
1: Best Laid Plans
2019-11-01
available in Hong Kong
Paige invites Sam to redefine their romance, Casey struggles with complicated feelings, and Elsa attempts to find a new normal with Doug.
2: Standing Sam
2019-11-01
available in Hong Kong
Sam makes a bold move amid the buzz of orientation day. Casey crosses paths with Nate. Elsa and Doug unpack the hazards of half-truths.
3: Cocaine Pills and Pony Meat
2019-11-01
available in Hong Kong
An ethics professor pushes Sam to his limits. Elsa keeps an eye on Doug ... and Megan. Casey considers her future and encourages Evan to do the same.
4: Y.G.A.G.G.
2019-11-01
available in Hong Kong
Casey and Evan take to the open road for a tense reunion. Back home, Sam and Zahid get ready to party, and Elsa bids farewell to the past.
5: Only Tweed
2019-11-01
unlockable
As Paige makes a plan in the face of adversity, Sam awaits a crucial academic update. Elsa endures an uncomfortable encounter.
6: The Essence of a Penguin
2019-11-01
unlockable
Sam's art assignment inspires an impromptu field trip. Casey navigates a fight with Izzie. Evan works hard for a second chance with Doug.
7: Shrinkage
2019-11-01
unlockable
While Sam and Casey face friendship dilemmas, Elsa uncovers a charming surprise, and Doug makes an unexpected decision.
8: Road Rage Paige
2019-11-01
unlockable
A hard truth keeps Casey up at night. Sam experiences a rough season with Zahid -- and Paige. Elsa and Doug brace for their next chapter.
9: Sam Takes a Walk
2019-11-01
unlockable
As Sam gets political with his art, Elsa and Doug explore a (not-so-normal) weekend away. Casey and Izzie re-examine their relationship.
10: Searching for Brown Sugar Man
2019-11-01
unlockable
A rogue plan for Zahid leads to a last-minute mission for Sam, Casey, Paige and Abby. Meanwhile, Doug faces a major test and makes a pivotal choice.
Episode
Release Date
Watch Now
1: Magical Bird #1
2021-07-09
available in Hong Kong
Sam's living situation with Zahid gets off to a rocky start, while Elsa struggles with her son's departure. Casey weighs telling Doug about Izzie.
2: Master of Penguins
2021-07-09
available in Hong Kong
Casey's demanding schedule starts affecting her grades, while Sam seeks out some extra credit himself. A chance run-in revives old suspicions for Elsa.
3: You Say You Want a Revolution
2021-07-09
available in Hong Kong
A change at work leaves Sam scrambling for cash. When Izzie fights the school dress code, Casey feels conflicted. Paige discovers a knack for management.
4: Starters and Endings
2021-07-09
available in Hong Kong
Casey and Izzie face fallout from the protest. Paige tries to prove her mettle to Casey through strange tasks. Doug avoids dealing with a painful loss.
5: Dead Dreams
2021-07-09
unlockable
As Sam gets ready for an adventure, Elsa thinks about ways to discourage him. Casey gets an up-close look at Izzie's tense home life.
6: Are You in Fair Health?
2021-07-09
unlockable
Sam seeks a worthy caretaker for Edison. Casey tries to be supportive of Izzie, but her plan backfires. Zahid shares tough news with Sam.
7: Channel the Cat
2021-07-09
unlockable
Elsa makes a meaningful reconnection. Paige plans a romantic night with Sam. Pressure mounts on Casey ahead of a big track meet.
8: Magical Bird #2
2021-07-09
unlockable
As Casey reaches a crossroads, she finds herself questioning a lot of things. But in the meantime, she helps Sam get over a hurdle of his own.
9: Player's Ball
2021-07-09
unlockable
Casey and Sam fume about their parents meddling in their lives. Zahid hosts a big send-off for something near and dear.
10: Dessert at Olive Garden
2021-07-09
unlockable
Sam deals with a big disappointment, Casey clashes with Elsa over college plans, and a recurring dream vexes Doug.
---
---