What's New on Netflix now has MORE REGIONS
Is
Wise and Foolish

on Netflix in Hong Kong?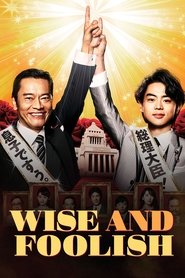 Yes you can watch Wise and Foolish (2015) in Hong Kong, but not without unlocking it.
Did you know that Netflix has movies and shows in their catalogue that they hide from us here in Hong Kong?
Thousands of them! Wise and Foolish is one of them.
And did you know there are now ways to unlock those titles so you can watch them?
Read on to learn how. We've got steps, instructions, and the links you need.
---
Wise and Foolish
2015
All of a sudden, Prime Minister Taizan and his carefree son Sho find their bodies switched around. They have no idea why nor how to turn back. Now Sho has to attend the Diet as Prime Minister. He cannot even read the words as he speaks as Prime Minister...but the diet members and the people are gradually moved by his straightforward opinions and things begin to change... Meanwhile, Taizan, the Prime Minister, is now a college student undergoing numerous job interviews. But he cannot pass the interview. And things become more confusing as he meets Sho's ex-girlfriends.
Genres
Actors
Nobue Iketani, Ken'ichi Endô, Masaki Suda, Yuika Motokariya, Ji-young Kang, Issey Takahashi, Akio Kaneda, Rie Minemura, Takaya Yamauchi, Seiji Rokkaku
Where to watch Wise and Foolish in Hong Kong
Netflix has Wise and Foolish available in other countries around the world, but hides it from subscribers in Hong Kong.
Unlocking it is simple, although it does require a subscription to a 3rd-party service.
Unlock Wise and Foolish in Hong Kong
Wise and Foolish can be streamed on Netflix in these countries
India, Indonesia, Pakistan, Philippines, Singapore, Taiwan, Thailand
Seasons
Episode
Release Date
Watch Now
1: Episode 1
2015-07-24
available in Hong Kong
Synopsis not available
2: Episode 2
2015-07-31
available in Hong Kong
Synopsis not available
3: Episode 3
2015-08-14
available in Hong Kong
Synopsis not available
4: Episode 4
2015-08-21
available in Hong Kong
Synopsis not available
5: Episode 5
2015-08-28
available in Hong Kong
Synopsis not available
6: Episode 6
2015-09-04
available in Hong Kong
Synopsis not available
7: Episode 7
2015-09-11
available in Hong Kong
Synopsis not available
8: Episode 8
2015-09-18
available in Hong Kong
Synopsis not available
---
---