What's New on Netflix now has MORE REGIONS
Is
Terrace House: Boys & Girls in the City

on Netflix in India?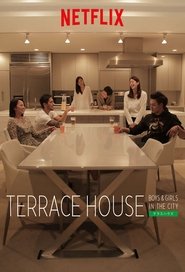 Yes Terrace House: Boys & Girls in the City (2015) is available on Netflix in India. We first spotted it on January 20, 2022.
Sometimes Netflix doesn't have all seasons and episodes available though, so check the episode list below for complete availability listing.
But before you go, did you know that Netflix has movies and shows in their catalogue that they hide from us here in India?
Thousands of them!
And did you know there are now ways to unlock those titles so you can watch them?
Read on to learn how. We've got steps, instructions, and the links you need.
---
Terrace House: Boys & Girls in the City
2015
Six men and women start off as strangers and live together under one roof. All that is provided is a beautiful house and a car. There is no script.
Genres
Actors
Misaki Tamori, Arman Bitaraf, Minori Nakada, Tatsuya Uchihara
Where to watch Terrace House: Boys & Girls in the City in India
Netflix India currently has Terrace House: Boys & Girls in the City available for streaming right now
Terrace House: Boys & Girls in the City can be streamed on Netflix in these countries
Albania, Algeria, Andorra, Antigua and Barbuda, Argentina, Australia, Austria, Bahamas, Bahrain, Barbados, Belgium, Bermuda, Bolivia, Bosnia and Herzegovina, Brazil, Bulgaria, Cabo Verde, Canada, Chile, Colombia, Costa Rica, Côte d'Ivoire, Denmark, Dominican Republic, Ecuador, Egypt, El Salvador, Equatorial Guinea, Estonia, Fiji, Finland, France, French Guiana, French Polynesia, Germany, Ghana, Gibraltar, Greece, Guatemala, Guernsey, Honduras, Hong Kong, Iceland, India, Iraq, Ireland, Israel, Italy, Jamaica, Japan, Jordan, Kenya, Kuwait, Latvia, Libya, Liechtenstein, Lithuania, Malta, Mauritius, Mexico, Moldova, Monaco, Morocco, Mozambique, Netherlands, New Zealand, Nicaragua, Niger, Nigeria, North Macedonia, Norway, Oman, Pakistan, Palestine, State of, Panama, Paraguay, Peru, Philippines, Poland, Portugal, Qatar, Romania, Saint Lucia, San Marino, Saudi Arabia, Senegal, Serbia, Seychelles, Singapore, Slovakia, Slovenia, South Africa, South Korea, Spain, Sweden, Switzerland, Taiwan, Tanzania, Thailand, Trinidad and Tobago, Tunisia, Turkey, Turks and Caicos Islands, USA, United Arab Emirates, United Kingdom, Uruguay, Venezuela, Yemen, Zambia
Seasons
Episode
Release Date
Watch Now
1: New Boys, New Girls, New City
2015-10-12
available in India
One summer's day, six young strangers move into a house together and start living an unscripted drama.
2: Three Crushes
2015-10-19
available in India
Everyone changes into swimsuits after lunch and heads to the pool on the terrace. The boys are excited at the sight of the girls in their swimsuits.
3: Dream Police
2015-10-26
available in India
The roommates celebrate tap dancer Yuki's birthday. However, his harsh words trigger tears from both Mizuki and Yuriko.
4: In Tears Again
2015-11-02
available in India
Makoto and Minori go out to dinner alone together. Yuki asks Yuriko out on a date, but she's had a bit too much sake to drink. What will she say?
5: Eenie Meenie Miney Mo
2015-11-09
available in India
Tatsuya rocks the house by declaring he'll take each of the three girls on a date this summer. Meanwhile, something is up with Minori and Makoto.
6: All Screwed Up
2015-11-16
available in India
Tatsuya declared he would go on a date with all three of the girls. First comes Mizuki, and next is Yuriko, but her date opens a whole can of worms.
7: Showing His True Colors
2015-11-23
available in India
Makoto angers Tatsuya with his rash behavior but shows no signs of remorse, creating a touch-and-go situation in the boys' room.
8: Late Night Poolside
2015-11-30
available in India
Minori loses interest as she sees how Makoto behaves. Tatsuya reflects on his dates with the three girls in an effort to choose one as his lover.
9: What A Good Day!
2015-12-07
available in India
Tatsuya and Minori go on a second date. Tatsuya tells her how he feels but says she need not give her answer now. Makoto has a present for Minori.
10: Before He Says the Word...
2015-12-14
available in India
Unable to forget her ex, Yuriko calls and asks to see him. Meanwhile, after receiving a present from Makoto, Minori talks to him about her feelings.
11: Boy from the Rainbow State
2016-01-11
available in India
At the Girls Award event, Tatsuya and Minori meet former member Seina, who encouraged their budding relationship. A new member arrives from overseas.
12: Is She Just Best of Three?
2016-01-18
available in India
Tatsuya finally asks Minori to officially be his girlfriend. How will she answer? Hawaii-born Arman, the newest housemate, asks Mizuki out on a date.
13: Who Will Survive?
2016-01-25
available in India
Yuriko confesses her feelings to the ex before leaving the house. And her ex's reply? The boys get excited over the arrival of the new girl member.
14: Ikujinashi
2016-02-01
available in India
Arisa's arrival to the house excites Arman and Yuki because she's "their type." Meanwhile, Tatsuya and Minori find it difficult to take the next step.
15: Heating Up for Someone Else
2016-02-08
available in India
A kiss takes Tatsuya and Minori's relationship to the next level. Arisa and Arman head to Mt. Takao on a date. But Mizuki also has feelings for Arman.
16: Magic Spell Costco
2016-02-15
available in India
Arisa grows closer to Arman after having gone out on a number of dates. Yuki, who also hopes to ask Arisa out, tries hard to steal her attention.
17: Anywhere for You
2016-02-22
available in India
Arman, Arisa, and Mizuki prepare the Japanese-style room for Minori and Tatsuya, now a couple. Arisa promises she will go anywhere with Arman if he wins his fight.
18: Worst Date Ever
2016-02-29
available in India
Minori confesses her relationship issues to her older sister, Kurumi, who asks Minori whether the two are having make-up sex or not.
19: A Christmas Nightmare
2016-04-11
not available
Arman and Arisa go out on a Christmas dinner date. The two hold hands and enjoy the Christmas lights. Then, Arman expresses his feelings to Arisa.
20: Scissorhands
2016-04-18
not available
Excitement buzzes as Terrace House welcomes two new members. But upon Natsumi's arrival, an incident causes a clash between her and Minori.
21: Case of Poke Bowl
2016-04-25
not available
New member Natsumi invites Arman out to the beach one morning. Later that day, Arman fixes the busy Arisa a Hawaiian fish salad called "poke."
22: Case of the Meat
2016-05-02
not available
One night, the housemates discover they have run out of food. Minori suggests eating the fancy wagyu beef that Tatsuya got as a present at work.
23: No Use Crying Over Meat
2016-05-09
not available
Tatsuya is furious with his housemates for eating his beef without his permission. Minori's older sister comes to visit and reasons with him.
24: New It Girl in the City
2016-05-16
not available
Tatsuya and Minori depart from the house as a couple after seven month. Upon arrival, the new girl becomes an instant love interest among the boys.
25: Mr. Perfect in the City
2016-05-23
not available
Aspiring architect Yuto Handa moves in after Misaki. He intends to complete his studies at Harvard and attracts the attention of the female residents.
26: Love Is in the Air
2016-05-30
not available
Hikaru is interested in the new housemate Misaki. When she talks about her ex, he doesn't hide his irritation. The next day, when the two are alone...
27: Always Smiling With You
2016-06-06
not available
Hikaru takes Misaki for a romantic motorbike ride to the beach. Later, Misaki tells Natsumi that she wishes the date had lasted forever.
28: Cry, Cry, Cry
2016-06-13
not available
Yuto promises to go fishing with Natsumi, but he changes his mind and tells her he can't go because of his girlfriend. Natsumi starts to cry.
29: Nightie Nightmare
2016-06-20
not available
High school student Riko Nagai, who recently won a national beauty contest, joins the gang. Misaki quickly befriends her and they chat about Hikaru.
30: Girl's Decision in Love
2016-06-27
not available
When Misaki buys some sleepwear with Hikaru's opinion in mind, Natsumi comments on it and the two get into an argument. Yuto sides against Natsumi.
31: Natsumi & Fuyumi
2016-07-04
not available
Misaki confesses her feelings to Hikaru. That night, she says something that makes Natsumi incredibly angry and winds up paying the price for it.
32: Shall We Pas de Deux?
2016-07-11
not available
When Hikaru suddenly declares that he will leave the house with Natsumi, the rest of the members are shocked. Misaki has a talk with him in private.
33: First Dip in the Pool
2016-07-18
not available
Hayato promises to go on a date with Riko, but she worries she's too young for him. During the welcome party, an unexpected surprise occurs.
34: Hamburg x Hamburg
2016-07-25
not available
Riko asks Hayato if he thinks she's immature, but he reassures her. They decide on Tsukiji for their second date. Arman participates in a festival.
35: Bye Bye Mr. Perfect
2016-08-02
not available
Momoka works up the courage to ask Arman out to the beach. Hayato and Riko enjoy their date at Tsukiji. Meanwhile, Yuto makes a decision.
36: Byrnes Sandwich
2016-08-09
not available
Shortly after Handa's departure, Yuuki arrives at the house. Good looking and tall, he's just Riko's type. But he has his eyes on someone else.
37: Slow Down Your Love
2016-08-16
not available
Yuuki's had his eye on Misaki ever since moving in and asks her out on a date. Misaki tells him about her unrequited feelings for Hikaru.
38: Quick to Say I Love You
2016-08-23
not available
After their date ends awkwardly, Riko tries to clear the air with Hayato. Meanwhile, Momoka faces a life-changing contest.
39: Rocket Girl Dives Into Love
2016-08-30
not available
During Misaki's birthday party, Yuuki can't control himself and confesses his feelings for Misaki. The next morning, she asks if he remembers.
40: Midsummer Intimacy
2016-09-06
not available
Recently entrant Masako quickly declares her fondness for Hayato and promises to cook with him. One night, the two of them spend time alone at the pool.
41: Better Luck This Time
2016-09-13
not available
Yuuki goes on his first drive with Misaki to Yokohama, where she once fell out of love. He finally tells her how he really feels about her.
42: Fragile Boy, Fragile Girl
2016-09-20
not available
Masako feels even more strongly about Hayato and, after seeing him with Riko, asks him out on a date. Arman goes out for nighttime skateboarding.
43: Kiss and Tell
2016-10-04
not available
Riko and Hayato's date to see the fireworks ends uneventfully. He says that he doesn't see her as a woman, but this statement proves consequential.
44: Price of a Lie
2016-10-11
not available
Despite the apparent lack of progress in Riko and Hayato's relationship, the other housemates question them upon learning they have already kissed.
45: The Riko Special
2016-10-18
not available
The house members confront Hayato and Riko about the lies they told about their relationship. Hayato remains silent and all eyes turn to Riko.
46: Bye Bye Terrace House in the City
2016-10-25
not available
In the season finale, as the evening of their arrangement arrives, Hayato prepares for Riko in his restaurant. But she may be headed somewhere else.
---
---