What's New on Netflix now has MORE REGIONS
Is
Hache

on Netflix in Norway?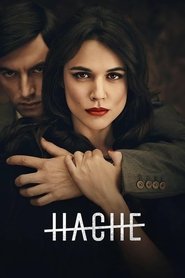 Yes Hache (2019) is available on Netflix in Norway. We first spotted it on January 20, 2022.
Sometimes Netflix doesn't have all seasons and episodes available though, so check the episode list below for complete availability listing.
But before you go, did you know that Netflix has movies and shows in their catalogue that they hide from us here in Norway?
Thousands of them!
And did you know there are now ways to unlock those titles so you can watch them?
Read on to learn how. We've got steps, instructions, and the links you need.
---
Hache
2019
As Helena gains the trust and love of a dangerous heroin cartel leader in Barcelona, she develops the skills she needs to eventually seize his empire.
Genres
Actors
Ingrid Rubio, Adriana Ugarte, Eduardo Noriega, Marc Martínez, Pep Ambròs, Marina Salas, Núria Prims, Àlex Casanovas, Joana Belmonte
Where to watch Hache in Norway
Netflix Norway currently has Hache available for streaming right now
Hache can be streamed on Netflix in these countries
Albania, Algeria, Andorra, Antigua and Barbuda, Argentina, Australia, Austria, Bahamas, Bahrain, Barbados, Belgium, Bermuda, Bolivia, Bosnia and Herzegovina, Brazil, Bulgaria, Cabo Verde, Canada, Chile, Colombia, Costa Rica, Croatia, Czechia, Côte d'Ivoire, Denmark, Dominican Republic, Ecuador, Egypt, El Salvador, Equatorial Guinea, Estonia, Fiji, Finland, France, French Guiana, French Polynesia, Germany, Ghana, Gibraltar, Greece, Guatemala, Guernsey, Honduras, Hong Kong, Hungary, Iceland, India, Indonesia, Iraq, Ireland, Israel, Italy, Jamaica, Japan, Jordan, Kenya, Kuwait, Latvia, Lebanon, Libya, Liechtenstein, Lithuania, Malaysia, Malta, Mauritius, Mexico, Moldova, Monaco, Morocco, Mozambique, Netherlands, New Zealand, Niger, Nigeria, North Macedonia, Norway, Oman, Pakistan, Palestine, State of, Panama, Paraguay, Peru, Philippines, Poland, Portugal, Qatar, Romania, Saint Lucia, San Marino, Saudi Arabia, Senegal, Serbia, Singapore, Slovakia, Slovenia, South Africa, South Korea, Spain, Sweden, Switzerland, Taiwan, Tanzania, Thailand, Trinidad and Tobago, Tunisia, Turkey, Turks and Caicos Islands, USA, United Arab Emirates, United Kingdom, Uruguay, Venezuela, Yemen, Zambia
Seasons
Episode
Release Date
Watch Now
1: Dolls floating at sea
2019-11-01
available in Norway
Helena takes extreme measures to seduce drug lord Malpica and get funds to free her partner from jail. Vinuesa investigates a string of murders.
2: The first job
2019-11-01
available in Norway
Vinuesa begins tying the murders to heroin. Caruso triggers Malpica's jealousy. Helena, now Hache, attempts to hide her daughter from her new lover.
3: The bout
2019-11-01
available in Norway
Hache starts gaining Malpica's trust and secures more responsibility in his organization. An anonymous call focuses Vinuesa's attention on the port.
4: The kiss of death
2019-11-01
available in Norway
Malpica and his men search for a missing Anna ahead of an important meeting. Vinuesa refuses to be distracted by the shooting.
5: Vengeance
2019-11-01
available in Norway
Malpica frantically tries to free Hache as she and the port director are interrogated about the blackmail incident. Vinuesa is given frustrating orders.
6: Marseille
2019-11-01
available in Norway
Hache makes an impression on Luciano when Malpica brings her on a business trip to Marseille. Bruno looks for his family. Celeste voices her ambition.
7: The carousel
2019-11-01
available in Norway
Bruno pressures Hache to move to Argentina, but she feels conflicted. Malpica orders Kopinski to commit a serious crime.
8: Helena with an H
2019-11-01
available in Norway
The person who betrayed Malpica is discovered and tortured. Hache mourns her loss with anger and plans for vengeance.
Episode
Release Date
Watch Now
1: The Inheritance
2021-02-05
available in Norway
An uninvited guest at a wedding brings intriguing news to Hache, who spots an opportunity. A robbery casts a shadow on Vinuesa's newfound happiness.
Episode 2
available in Norway
Synopsis not available
Episode 3
available in Norway
Synopsis not available
4: Solitudes
2021-02-05
available in Norway
Vinuesa eagerly investigates the incident at the club. Arístides tries to smooth things over with Pío. Hache runs into Celeste in an unexpected place.
Episode 5
available in Norway
Synopsis not available
6: The Best for You
2021-02-05
available in Norway
A sudden loss brings Luciano to Barcelona to investigate. Camino's nerves threaten to betray her to the police. Silvia reaches her limit with Vinuesa.
Episode 7
not available
Synopsis not available
Episode 8
not available
Synopsis not available
---
---