What's New on Netflix now has MORE REGIONS
Is
Haikyu!!

on Netflix in the United Kingdom?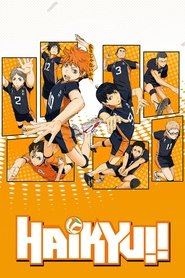 Yes you can watch Haikyu!! (2014) in the United Kingdom, but not without unlocking it.
Did you know that Netflix has movies and shows in their catalogue that they hide from us here in the United Kingdom?
Thousands of them! Haikyu!! is one of them.
And did you know there are now ways to unlock those titles so you can watch them?
Read on to learn how. We've got steps, instructions, and the links you need.
---
Haikyu!!
2014
Based off of the original Weekly Shonen Jump manga series from Haruichi Furudate, Haikyu!! is a slice-of-life sports anime revolving around Shouyou Hinata's love of volleyball. Inspired by a small-statured pro volleyball player, Hinata creates a volleyball team in his last year of middle school. Unfortunately the team is matched up against the "King of the Court" Tobio Kageyama's team in their first tournament and inevitably lose. After the crushing defeat, Hinata vows to surpass Kageyama. After entering high school, Hinata joins the volleyball team only to find that Tobio has also joined.
Genres
Actors
Yoshimasa Hosoya, Ayumu Murase, Kaito Ishikawa, Yu Hayashi, Satoshi Hino, Miyu Irino, Koki Uchiyama, Sôma Saitô, Nobuhiko Okamoto
Where to watch Haikyu!! in the United Kingdom
Netflix has Haikyu!! available in other countries around the world, but hides it from subscribers in the United Kingdom.
Unlocking it is simple, although it does require a subscription to a 3rd-party service.
Unlock Haikyu!! in the United Kingdom
Haikyu!! can be streamed on Netflix in these countries
Austria, Germany, Japan, Liechtenstein, South Korea, Switzerland
Seasons
---
---