What's New on Netflix now has MORE REGIONS
Is
Easy A

on Netflix in the USA?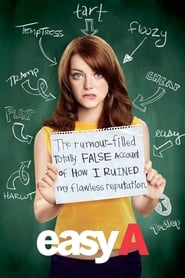 Yes you can watch Easy A (2010) in the USA, but not without unlocking it.
Did you know that Netflix has movies and shows in their catalogue that they hide from us here in the USA?
Thousands of them! Easy A is one of them.
And did you know there are now ways to unlock those titles so you can watch them?
Read on to learn how. We've got steps, instructions, and the links you need.
---
Easy A
2010
Olive, an average high school student, sees her below-the-radar existence turn around overnight once she decides to use the school's gossip grapevine to advance her social standing. Now her classmates are turning against her and the school board is becoming concerned, including her favorite teacher and the distracted guidance counselor. With the support of her hilariously idiosyncratic parents and a little help from a long-time crush, Olive attempts to take on her notorious new identity and crush the rumor mill once and for all.
Genres
Actors
Emma Stone, Amanda Bynes, Penn Badgley, Dan Byrd
Directors
Will Gluck
Where to watch Easy A in the USA
Netflix has Easy A available in other countries around the world, but hides it from subscribers in the USA.
Unlocking it is simple, although it does require a subscription to a 3rd-party service.
Easy A can be streamed on Netflix in these countries
Antigua and Barbuda, Argentina, Bahamas, Barbados, Bermuda, Bolivia, Brazil, Chile, Colombia, Costa Rica, Dominican Republic, Ecuador, El Salvador, French Guiana, Gibraltar, Guatemala, Honduras, Hong Kong, Indonesia, Ireland, Jamaica, Malaysia, Mexico, Nicaragua, Panama, Paraguay, Peru, Philippines, Saint Lucia, Singapore, Taiwan, Thailand, Trinidad and Tobago, Turks and Caicos Islands, United Kingdom, Uruguay, Venezuela
---
---