What's New on Netflix now has MORE REGIONS
Is
The Losers

on Netflix in the USA?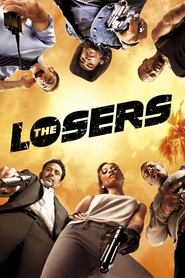 Yes you can watch The Losers (2010) in the USA, but not without unlocking it.
Did you know that Netflix has movies and shows in their catalogue that they hide from us here in the USA?
Thousands of them! The Losers is one of them.
And did you know there are now ways to unlock those titles so you can watch them?
Read on to learn how. We've got steps, instructions, and the links you need.
---
The Losers
2010
A tale of double cross and revenge, centered upon the members of an elite U.S. Special Forces unit sent into the Bolivian jungle on a search and destroy mission. The team-Clay, Jensen, Roque, Pooch and Cougar -find themselves the target of a lethal betrayal instigated from inside by a powerful enemy known only as Max. Presumed dead, the group makes plans to even the score when they're joined by the mysterious Aisha, a beautiful operative with her own agenda. Working together, they must remain deep undercover while tracking the heavily-guarded Max, a ruthless man bent on embroiling the world in a new high-tech global war.
Genres
Actors
Idris Elba, Zoe Saldana, Jeffrey Dean Morgan, Chris Evans
Directors
Sylvain White
Where to watch The Losers in the USA
Netflix has The Losers available in other countries around the world, but hides it from subscribers in the USA.
Unlocking it is simple, although it does require a subscription to a 3rd-party service.
The Losers can be streamed on Netflix in these countries
Algeria, Australia, Austria, Bahrain, Egypt, Germany, Hong Kong, India, Indonesia, Iraq, Italy, Japan, Jordan, Kuwait, Lebanon, Libya, Liechtenstein, Malaysia, Morocco, New Zealand, Oman, Pakistan, Palestine, State of, Philippines, Qatar, San Marino, Saudi Arabia, Singapore, South Africa, South Korea, Switzerland, Taiwan, Tanzania, Thailand, Tunisia, United Arab Emirates, Yemen
---
---