What's New on Netflix now has MORE REGIONS
Is
Devils' Line

on Netflix in the USA?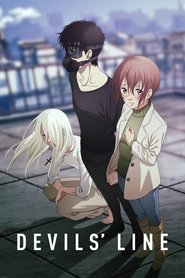 Yes you can watch Devils' Line (2018) in the USA, but not without unlocking it.
Did you know that Netflix has movies and shows in their catalogue that they hide from us here in the USA?
Thousands of them! Devils' Line is one of them.
And did you know there are now ways to unlock those titles so you can watch them?
Read on to learn how. We've got steps, instructions, and the links you need.
---
Devils' Line
2018
Tsukasa, a college student, is rescued from an attack by a devil, one of many vampires that can blend in among the human population. Anzai, her savior, is a half-devil who exploits his supernatural gifts as a member of a shadowy police task force that specializes in devil-related crime in Tokyo. As Anzai continues to keep guard over Tsukasa, the two quickly forge a tentative bond—one that Anzai fears will test his iron-clad rule of never drinking human blood...
Genres
Actors
Adam Noble, Luci Christian, Yoshitsugu Matsuoka, Yui Ishikawa, Adam Gibbs, Justin Doran, John Ramirez, Carli Mosier, Kira Vincent-Davis, Scott Gibbs
Where to watch Devils' Line in the USA
Netflix has Devils' Line available in other countries around the world, but hides it from subscribers in the USA.
Unlocking it is simple, although it does require a subscription to a 3rd-party service.
Unlock Devils' Line in the USA
Devils' Line can be streamed on Netflix in these countries
Fiji, Hong Kong, India, Indonesia, Malaysia, Mauritius, Pakistan, Philippines, Singapore, Taiwan, Thailand
Seasons
Episode
Release Date
Watch Now
Episode 1
unlockable
Synopsis not available
2: Safe House
2018-04-14
unlockable
Trouble arises and blood is shed as Tsukasa tries to make sense of her new lustful feelings towards Anzai.
3: Paradox
2018-04-21
unlockable
Anzai takes refuge with Tsukasa after being suspended. Meanwhile, the authorities are on the lookout for a missing murder suspect.
4: Monster
2018-04-28
unlockable
A sniper is out for revenge. Another random passing half-devil helps Anzai to recover by giving him a taste of blood.
5: Plan B
2018-04-28
unlockable
Devils throughout Kanto Region are transforming after witnessing a slasher attack broadcasted on live TV. Tsukasa suggests a new method to extend Anzai's lifespan.
6: Dogmatic
2018-05-12
unlockable
Tsukasa is confronted about her relationship with Anzai. Anzai is called back into duty to take care of an emergency situation as he learns to accept his demon instincts.
7: Chaser
2018-05-19
unlockable
As Anzai is struggling to keep a distance from Tsukasa in order to protect her, she is kidnapped by a devil hunter.
8: Offline
2018-05-26
unlockable
After being involved in a risky situation, Tsukasa asks Anzai if they are dating. Will Anzai be able to control his bloodlust in a relationship with her?
9: Command
2018-06-02
unlockable
Operations within the police force get shaken up as Lieutenant Ishimaru becomes the new leader of F Squad.
10: Ego Defense
2018-06-09
unlockable
Anzai's ability to control his transformation is severely tested as he is confronted by a person from his past seeking revenge.
11: Ouroboros
2018-06-16
unlockable
Immediately after Lieutenant Ishimaru issues a deployment ban on devils from the CCC, the police force ends up in a risky situation.
12: Devil's Line
2018-06-23
unlockable
Tsukasa is willing to risk everything to rescue Anzai. Anzai learns about his past as he recovers from his injuries.
Episode 13
not available
Synopsis not available
Episode 14
not available
Synopsis not available
---
---