What's New on Netflix now has MORE REGIONS
Is
Rush Hour 2

on Netflix in the USA?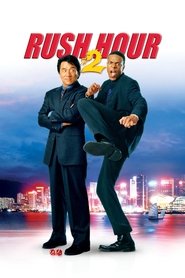 Yes you can watch Rush Hour 2 (2001) in the USA, but not without unlocking it.
Did you know that Netflix has movies and shows in their catalogue that they hide from us here in the USA?
Thousands of them! Rush Hour 2 is one of them.
And did you know there are now ways to unlock those titles so you can watch them?
Read on to learn how. We've got steps, instructions, and the links you need.
---
Rush Hour 2
2001
It's vacation time for Carter as he finds himself alongside Lee in Hong Kong wishing for more excitement. While Carter wants to party and meet the ladies, Lee is out to track down a Triad gang lord who may be responsible for killing two men at the American Embassy. Things get complicated as the pair stumble onto a counterfeiting plot. The boys are soon up to their necks in fist fights and life-threatening situations. A trip back to the U.S. may provide the answers about the bombing, the counterfeiting, and the true allegiance of sexy customs agent Isabella.
Genres
Actors
Jackie Chan, Chris Tucker, John Lone, Ziyi Zhang
Directors
Brett Ratner
Where to watch Rush Hour 2 in the USA
Netflix has Rush Hour 2 available in other countries around the world, but hides it from subscribers in the USA.
Unlocking it is simple, although it does require a subscription to a 3rd-party service.
Rush Hour 2 can be streamed on Netflix in these countries
Algeria, Andorra, Austria, Bahrain, Belgium, Bosnia and Herzegovina, Bulgaria, Canada, Croatia, Czechia, Egypt, Estonia, Germany, Greece, Hungary, India, Iraq, Israel, Italy, Japan, Jordan, Kuwait, Latvia, Lebanon, Libya, Liechtenstein, Lithuania, Malta, Moldova, Morocco, North Macedonia, Oman, Palestine, State of, Poland, Portugal, Qatar, Romania, San Marino, Saudi Arabia, Serbia, Slovakia, Slovenia, South Africa, Spain, Switzerland, Tanzania, Tunisia, United Arab Emirates, Yemen
---
---